Medicare Turns 50!
April 6th, 2015
In 1965 before Medicare was passed, nearly half of the elderly in the United States lacked health insurance coverage. Today, just 2% of those over 65 are uninsured. The Medicare program provides health insurance for people 65 years of age and older, certain disabled people and people with kidney failure.
President Johnson signing the Medicare program into law, July 30, 1965. Shown with the President (on the right in the photo) are (left to right) Mrs. Johnson; former President Harry Truman; Vice-President Hubert Humphrey; and Mrs. Truman. Photo courtesy of LBJ Presidential Library.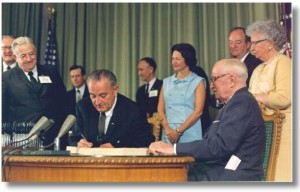 At the bill-signing ceremony President Johnson enrolled President Truman as the first Medicare beneficiary and presented him with the first Medicare card. This is President Truman's application for the optional Part B medical care coverage, which President Johnson signed as a witness. SSA History Archives.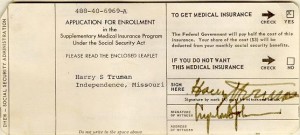 Today, Medicare provides health insurance coverage to more than 55 million people: 46.3 million people ages 65 and older and 9 million people with permanent disabilities under age 65. The program helps to pay for many vital health care services, including hospitalizations, physician visits, and prescription drugs, along with post-acute care, skilled nursing facility, home health care, hospice, and preventive services.