#1 Producers for 2017 with United Healthcare!
June 20th, 2018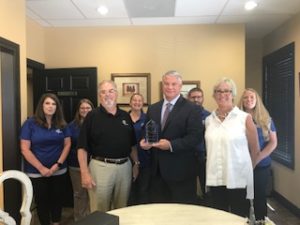 Congratulations to us!  We are so proud to announce that Ming Senior Services is once again #1 agency in the St. Louis Market for United Healthcare!  We don't get there by accident either.  All of us at Ming Senior Services work hard to learn all the 'ins and outs' of the Medicare plans being offered in Missouri.  Our Customer Service department loves to help you too!  We can't thank you enough for your confidence in us!
In the front row from left to right:  Jim Ming (partner); Doug Thompson (United Healthcare); Dee Forshee (partner)
In the second row from left to right:  Nicole Mendenhall (Customer Service); Bridget Harrison (Customer Service & Office Manager); Amy Grus (Receptionist and Dental Guru); Cody Ming (Application Manager); Stacey Tomasovic (In-House Agent & Administration)
Thank you!!