Testimonials
Great people. They were very helpful, polite, and caring. They answered all my questions. They came very highly recommended, and they were exactly what they said: polite, helpful, knowledgeable team. Love their service. I rate them 10 out of 10.
Ellen M / St. Clair, MO
I was referred to Ming Senior Services by Dr. Tom Davis, M.D. when I became eligible for Medicare in August 2018. Dr. Davis told me that I should contact Jim Ming to help me with my enrollment and that his office staff can assist me with any problems that might arise with billing questions.
Within 3 months of my enrollment, a crown came loose on a tooth and I had to see the dentist. Shortly thereafter, I received a notice from United Health Care that my claim was denied. I called Ming Senior Service and spoke to Nicole who was extremely helpful. She told me not to worry and she would handle the problem. It took several months of phone calls by Nicole to the UNC and my dentist office, but she was able to resolve my issue. I highly recommend Ming Senior Services to anyone who is eligible for Medicare. Thank you, Nicole for the great job you did handling this difficult claim for me!
Robert K., O'Fallon
"My husband and I met with Nicole at her office this morning.  She was a delight to work with.  She was able to help me with verifying doing online payments and also making sure our email address was correct. She is a great asset to your office!"
Carleen G / Marthasville, MO
I cannot say enough positive words about Ming Senior Services.  After much trouble trying to fix a prescription problem on my own, I handed it over to them.  The girls made it all so much easier.  They are wonderful and sure make senior living a lot easier.  I rate them a 10 out of 10!
Linda S / Union, MO
3 years ago we made a decision to move our business to Ming Senior Services.  That was one of the "BEST" moves we have ever done.  They are the most compassionate, well organized companies.  You have a problem, they are on top of it, you have a question, they answer it!  They are a 'well oiled machine!"  Kudos to you all!  I rate you a 10+!
Barbara T / Union, MO
Thank you for the exceptional service your insurance agency has given us.  You are a group of totally dedicated professionals.
Barry & Christine / Sullivan, MO
I can't begin to tell you how mixed up my SSA, Medicare Advantage and Part B were with a mistaken retro cancelation by SSA.  The domino effect of Medicare and the insurance canceling plus claim issues were such a mess to correct.  Jim Ming and Bridget Harrison jumped in and somehow got everything fixed.  Amazing.  I rate them 10 out of 10!
Joe D. / Sullivan, MO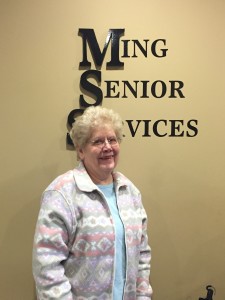 Great Service!  I had a troubling situation that needed a quick resolution and Ming Senior Services provided one!  Numerous times I've gone to them with problems and they always solve them!  I'm so grateful for their services.  I rate them a 10 out of 10!
Brenda P / Union, MO
I am very thankful to Stacey for taking care of my claim problem.  She got me money back that was due to me.
MJD / New Haven, MO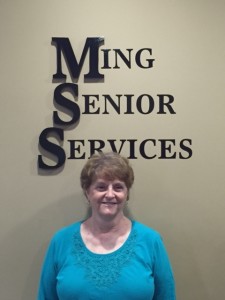 After paying for medical procedures, I received my Coventry explanation and found I was overcharged.  I contacted Bridget at Ming Senior Services about getting a refund.  I received my over-payment within 10 days.  What great service!  I rate them 10 out of 10!
Sharon S. / Union, MO
I met Jim Ming at my home.  He explained in detail my Medicare coverage.  I am impressed with his professional concerns about my benefits.  Jim helped me choose a primary insurance to go along with my Medicare, including benefits for my prescriptions, copays to doctors and hospital. Ming Senior Services, Bridget, helps me with billing and corrects any amounts that need changing.  I would highly recommend Ming Senior Services for your needs and I rate them a 10.  Always very nice and courteous.
Michael F / St. Clair, MO
Jim at Ming Senior Services helped me choose an insurance plan.  The staff are very friendly and nice and make me feel good and confident.  They help me with claims too.  You can call them anytime and a staff member will take care of you.  I rate them 10 out of 10.  I would be lost without them!
Doris F / St. Clair, MO
Ming Senior Services helped us choose the right Medicare insurance plan so that we can stay healthy and maintain our active lifestyles.  They are always available to answer questions or quickly resolve any issues we may have with the insurance company.  We feel confident that they "have our back".  We rate them a 10 out of 10!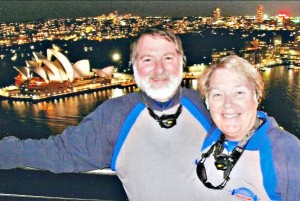 Gayle & Ron L / New Haven, MO
I really enjoy the friendly service and helpful girls at Ming Senior Services.  Stacey is a real help at anytime.  She really knows her job!  Thanks to all the crew at Ming Senior Services.  I rate them a 10 out of 10!
Ray H / Robertsville, MO
Thank you Ming Senior Services for all your guidance, patience and kindness in getting me enrolled.  You helped me understand something that I had no clue about!  Thank you!  I rate you a 10 out of 10!
Patty Z / St. Clair, MO
We are very happy with the service and always get quick responses when we need assistance.  ALL employees at Ming Senior Services are very friendly and helpful.  We rate them a 10 out of 10!
Thomas & Susan C / Grubville, MO
Ming Senior Services has always been there for my husband and me to help us get through all the government guidelines to obtain the right Medicare services for us.  They go above and beyond to help us get documents that are difficult and time consuming to obtain otherwise.  We rate them a 10 out of 10!
Sherry W. / Owensville, MO
Ming Senior Services made everything easy to get started.  Every time we call with issues we get answers immediately.  The Staff is friendly and very accommodating.  We rate them a 10 out of 10!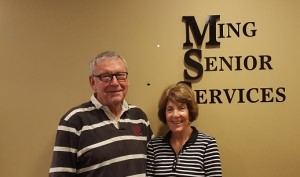 Ron & Pat F. / Union, MO
We would like to introduce our newest customer, Elizabeth Mueller.  She is amazing at 93!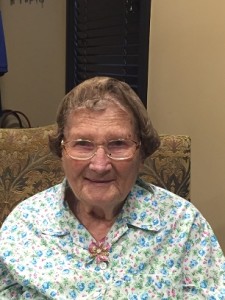 Welcome Elizabeth!
I think Ming Senior Services is great!  I had a referral issue and the ladies in the office helped me sort things out and get it fixed.  Friendly staff and willing to help!
Nancy W / St. Clair, MO
I found a wonderful, very professional, insurance broker in case this helps.  Please tell her I sent you.  Every friend I've referred (admittedly for Medicare Advantage or Supplemental Plans versus Dental) has raved about how good she is!
Carol J / Chesterfield, MO
We really appreciate your experience and knowledge.  We get help whenever we need it.  It's nice to have someone you can count on!
Sally K. & Joan B. / Union, MO
I purchased health insurance through Ming Senior Services for several years and have been very pleased with them.  They offer policies from several different companies and could find a plan that suited my wants and needs.  When I became eligible for Medicare, I talked to brokers from a couple of other agencies.  I finally returned to Ming Senior Services and secured a Medicare Advantage policy through them.  Their agent, Dee Forshee, seemed more knowledgeable and informative than the others.  I would heartily recommend Ming Senior Services.
Wayne W. / Eureka, MO
It was my lucky day when I attended a seminar given by Ming Senior Services. I knew little about their services only that they helped senior citizens. I felt I needed help. I found it the day I attended their seminar. I have called on them many times since that first day. They are always helpful and courteous. They have made my life easier and I can't thank them enough. When I need their help, it is like calling on a friend. Thank you Ming Senior Services!
Norma S / Marthasville, MO
Jim Ming is the best agent I've ever had. Anytime I've needed help, he has always been there to provide it for me. He's spectacular! I am very happy with this firm!
Andrew T / Gasconade, MO
My husband and I have been very pleased in dealing with Ming Senior Services. Greg Roy always explains plans clearly and tells us exactly what to expect. We had some billing issues and were very concerned until we called Greg and he explained it all and assured us we have Ming Senior Services and Greg for support and help. What a relief!
Judy & Dennis B / Owensville, MO
I would like to thank you for all the help that you've given me with my prescriptions and anytime I have a question. The staff is more than happy to help me. The staff is wonderful!
Edna K / Leasburg, MO
I just wanted to say thank you for your past advice in helping us choose the right insurance policy. You are always very helpful and straightforward with your recommendations and we are able to make the best insurance choices with your assistance. When we come to you with questions they are always answered and we trust the advice and recommendations that you give.
Richard & Victoria / Union, MO
I rate your company a '10' out of '10'!
Clifford T / Union, MO
When I first met with Jim Ming at my residence he explained in complete detail my Medicare coverage with Coventry Gold Advantage. I was very impressed with his professional concern about what plan would benefit me for my health needs. When Mercy and Patients First merged, I contacted Carla Beckett to have my personal doctor changed to Mercy Medical clinic in St. Clair, Mo. She arranged the change with no hassle and I'm very happy with my new doctor Patrick Smith and his staff. When they stress that customer service is very important to Ming Senior Services, they mean what they say. I had an invoice issue and Carla Beckett took care of the issue immediately. I would highly recommend Ming Senior Services for your Medicare coverage.
Darrell R / St. Clair, MO